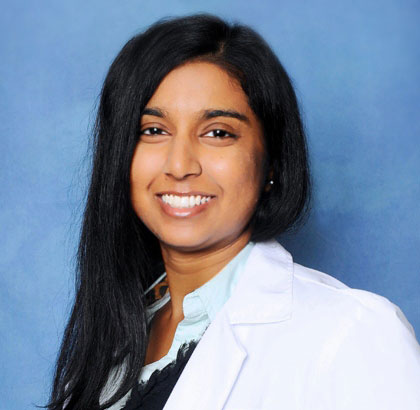 Dr Nisha Krishnan is currently part of the Florida Podiatric Medical Association and American Podiatric Medical Association.
Dr. Nisha Krishnan is an Ocala, Florida native who is an International Baccalaureate graduate from Vanguard High School and who later pursued her Bachelor's in Biomedical Sciences with a minor in History at the University of South Florida. After attending a seminar on the field of Podiatric Medicine, Dr. Krishnan set her sights on pursuing a medical career in this rapidly growing field.
She then enrolled in the William M. Scholl College of Podiatric Medicine in North Chicago, IL where she received her Doctorate in Podiatric Medicine in 2011. Dr. Krishnan then landed a residency spot in one of South Florida's most renown three-year programs: Palmetto General Hospital in Hialeah, FL.
Dr. Nisha Krishnan received PMSR-RRA accreditation after her extensive training in forefoot, rearfoot and ankle surgery with a focus on management of foot and ankle trauma and reconstruction with internal and external fixation. She set her sights at excelling in this program and rose to the status of chief resident in her third year and was published in 2014 for her collaborative work in developing a surgical technique.
Dr. Nisha Krishnan opened Beverly Hills Foot and Ankle, P.A. in August 2014 to service the patients of Citrus County, Florida with a full scope of foot and ankle care ranging from routine diabetic foot care to complex forefoot, rearfoot and ankle surgical cases!
In 2021 Dr. Nisha rebranded as Advanced Podiatry Institute and opened a new office in Ocala, FL.